Council joins campaign to protect victims of domestic abuse
Published February 13, 2020 9.05am
A North East council has signed the Work to Stop Domestic Abuse charter as part of GMB's campaign for greater support for employees experiencing domestic abuse.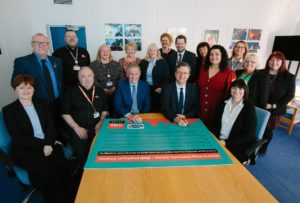 Representatives from the council and GMB signed the charter at our County Hall Headquarters
We pledged to support employees who are experiencing domestic abuse to access support services and information confidentially.
Cllr Simon Henig, our council leader; Terry Collins, our chief executive; and Joy Thompson, GMB branch secretary, signed the charter at our County Hall headquarters.
They were joined by Cllr Alan Napier, our council's deputy leader; Cllr Angela Surtees, Cabinet member for Social Inclusion; Cllr Andrea Patterson, Cabinet member for Corporate Services and Rural Issues, including HR; Cllr Lucy Hovvels, Cabinet member for Adult and Health Services; John Hewitt, corporate director of resources; Jane Robinson, corporate director of adult and health services; Amanda Healy, director of public health; and union representatives Julie Wynn, Tracy Metcalfe, David Clegg and Les Timbey from GMB, who all pledged their support for the campaign.