GMB have a large number of social events throughout the year for it's members ranging from shopping trips to raffle tickets.
The list below contains details of the current and past events that GMB organise
For further information on any of the events listed, please contact the branch
2020
Unfortunately due to the COVID-19 pandemic, a number of this years events have had to be cancelled
Weekly Raffle 2020
Due to us not being able to hold any social events, we are running a weekly raffle for our members. Each week, a member will be selected at random (based on membership number) and will win a shopping voucher to be used in store or online.
More information can be found here
2019
Saturday 30th November – Coach Trip to York Christmas Markets
Come and join us on our annual coach trip to the York Christmas Markets. Soak up the festive atmosphere and enjoy some warm mulled wine while you browse the many Christmas stalls of York.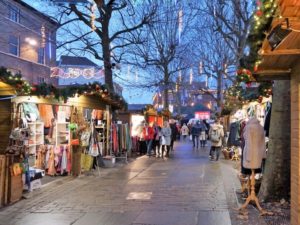 Saturday 13th July 2019 – 135th Durham Miners Gala and Social Evening
Join the branch and our members as we march through the streets of Durham carrying banners from around the country. As always, we will have our marquee set up for our members (ticket allocation in operation this year)
We will be holding our Social night at the Radisson hotel following the daytime activities
More details will follow later in the year
6th July 2019 – Coach Trip to Whitby
Our Summer coach trip to Whitby is proving as popular as ever so why not come and join us as we spend a day at this picturesque seaside town.
June/July – Football Ticket Draw
Football season brings the annual draw for free season tickets for Sunderland and Newcastle games. We will announce the opening of the draw in the coming weeks.
April – Easter Egg Raffle
Our Easter Egg raffle will take place in April and some lucky members will win something from our selection of Easter Eggs and other prizes.
No need to enter as all members are automatically entered. More information to follow.
2018
24th November 2018 – Christmas Shopping Trip to York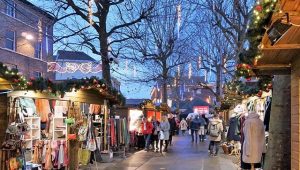 Join other GMB members on our annual shopping trip to the York Christmas markets. Always a fun day out with plenty to do.
15th September 2018 – Train to Edinburgh
The first train journey to Edinburgh went down very well with everyone who attended and we received some very positive feedback. Check out our Photo Gallery for some photos from the day.

23rd June 2018 – Summer Trip to Whitby
This years trip to Whitby was a great success. The sun shone for us and everyone had a really good time. Check out the Photo Gallery for pictures from the day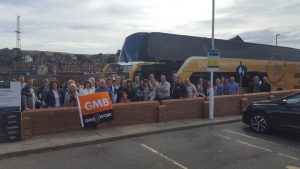 June/July 2018 – Football Season Ticket Draw

The season ticket draw has been carried out and all winners have been notified by the branch. All other entrants have been added to the reserve list.
14th July 2018 – Durham Miners Gala and Social Night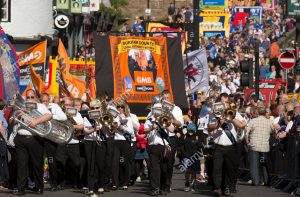 Great day out at the 134th Durham Miners Gala carrying the banners of the GMB Union through the streets of Durham
Pictures from this years Gala can be found in the Photo Gallery
March 2018 – Easter Raffle Draw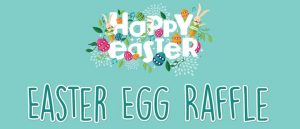 Our annual Easter raffle has been drawn and winners have been notified. Photos of some of the winners can be found in our photo gallery
2017
18th November 2017 – Christmas Shopping Trip to York
Our annual shopping trip to York will be in late November. Come and join fellow GMB members in visiting the Christmas markets and enjoying the festive sights and sounds.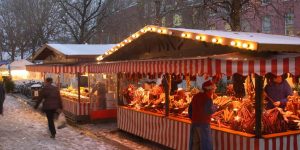 12th August 2017 – Trip to Whitby
Our annual Summer trip to Whitby is a popular event. Spend the day walking around the hstoric seaside town. Coach will be provided for members.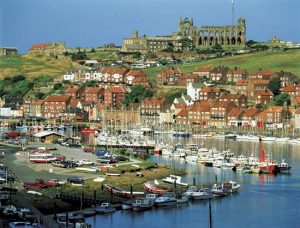 8th July – Durham Miners Gala and Social Evening
The 133rd Durham Miners Gala. Officers, reps and members marched from the Town Hall to the Racecourse where the branch had a marquee with food, drink and activities for all the family.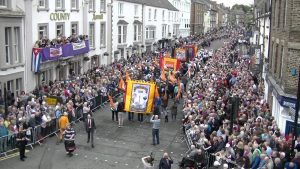 On the evening we held a social night where officers and members could socialise and reflect on the days events.
The weather was perfect for the day and record numbers of people attended. We were lucky to have three GMB Regional Secretaries attend this year as well as our General Secretary Tim Roache
For more information on the Gala please visit the Durham Miners Association Website.
June/July – Football Tickets for Sunderland & Newcastle
Each year, your local branch offer a pair of Season Tickets to Newcastle and Sunderland games.
All you need to do is contact the branch to express an interest and be entered into the prize draw.
UPDATE: Draws have been completed and all winners have been notified. Other members have been put on the reserve list
April – Easter Egg Raffle Draw
Free draw for all Durham Local Authority GMB Members to win Easter Egg prizes. Raffle is carried out by membership number
Winners have now been drawn and members contacted
2016
26th November – Christmas trip to York
Come and join fellow GMB members and guests for a day of shopping at York's Xmas markets

3rd September – Trip to Whitby
Annual trip to Whitby for members and guests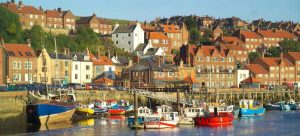 UPDATE: 5th September 2016 – Great day had by everyone despite the weather not being the best!
June / July – Football Season Tickets
GMB are offering a pair of Season Tickets to Newcastle and Sunderland games
To be in with a chance of having your name drawn please email the GMB office with your preference of team. Names will be drawn at random and winners will be notified.
 UPDATE: 24th August 2016 – The draw has taken place and all winners have been informed. Any other members who expressed an interest will be put on the reserve list in case any tickets become available – Click here to see some of the winners.
July 9th  – Durham Miners Gala and Social Night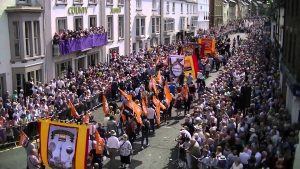 132nd Durham Miners Gala
Each year, GMB members from across the country march with their banners and brass bands as part of the Durham Miners Gala
March – Easter Raffle
Free to GMB Durham County LA Branch members – draw via membership numbers.
Check our photo gallery to see this years winners
2015
Christmas Shopping trip to York 2015
GMB fifth Christmas trip to york, more members coming every year.
August -Trip to Whitby 2015
Members enjoyed first GMB trip to Whitby.
July/August – Football Tickets -Sunderland and Newcastle
All winners have now been contacted.
All other members will go on reserve list.
July 11th 2015 – Durham Miners Gala and Social Night
131st Durham Miners Gala marching through Durham City to the Racecourse
April 2015 – Easter raffle draw
2014
22nd November 2014 – Christmas Shopping Trip to York
Good Day out, Weather was even good.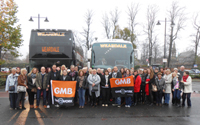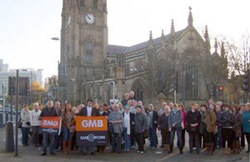 July 2014 – Durham Miners gala (Big Meeting) and Social Evening
130th Durham Miners Gala
Why not join fellow GMB members and March behind your Union banner stoping outside the County Hotel before ending up at the race course all whilst listening to the Leyburn Brass Band. Limited tickets will be available for the evening including food, drink and the opportunity to show your skills off on the dance floor.
Update 14th July – Great day and Night was had by all, the Branch was honoured this year to have Paul Kenny General Secretary and Billy Coates Regional Secretary attend the Gala Social night.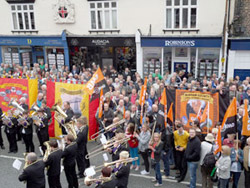 Newcastle United and Sunderland Season Tickets (2014/15)
Your chance of winning a pair of tickets for 1 match, all you need to do as a Durham County LA Branch member is either phone or e-mail saying which team you would like to go and see play, and your name will be put in the raffle and wait to see if your name is drawn out.
Update 1st August 2014 – Winners have now been informed, all others will be placed on reserve list.
April 2014
GMB Easter Egg Raffle
Lucky Winners will be drawn from membership numbers only Durham County LA Members are eligible.
Update  April 17 2014 – winners all collected Easter eggs and champagne.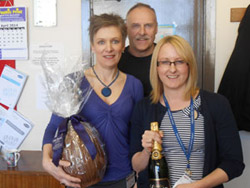 March 2014
Sport Event – GMB members on the Bus with Gus
Capital One Cup – 2 March 2014 Manchester City v Sunderland
#Dare to Dream
Update March 3 2014 – Great day was had by all, despite the result.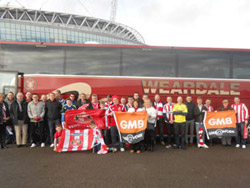 2013
July 2013 – Durham Miners Gala and Social Night
129th Durham Miners Gala
Come join GMB members from across the country as they march thorugh the City of Durham towards the Racecourse carrying their branch banners.