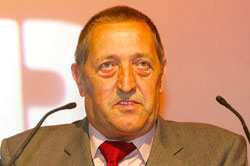 Branch Secretary Derrick Little (1977-2006) Durham County Local Authority Branch suddenly and sadly passed away on November 30 2006.
Derrick's funeral took place at St Andrew's church in Stanley on 7 December 2006. Hundreds of people attended to pay their respects to Derrick, and a tremendous tribute was made by Councillor Dennis Morgan (formerly a full time officer of the GMB).
Derrick was a Union Member since leaving school, first with the National Union of Mineworkers, and then with the GMB. Derrick became a Branch Secretary in 1977. He was a constant campaigner for workers' rights and conditions, more recently and publicly for the protection of public services with particular focus on residential homes for the elderly and vulnerable – a campaign that can be described as a success. In Derrick's words: "If it's public it's ours – if it's private it's theirs".
Derrick always had time in his busy schedule to talk to his members. His favourite exchange was "here, what's the crack?". Derrick's motto for his Branch was "We never close".
Honouring Outstanding Service
The GMB recognised his outstanding contributions with its highest honour, the GMB Gold Badge, which was presented to Derrick at GMB Congress 2005.
He was also awarded Recruitment of the Year in 2001 in London from the then general secretary, John Edmonds.
The Trade Union movement has lost a great friend. Derrick's life and achievements will be an inspiration to those who follow. He will be forever remembered – he was "Simply the Best".
Memorial Service
In memory of Derrick, Durham County Local Authority Branch are having a Memorial seat erected and a tree planted in the grounds of Derrick's beloved County Hall. The Memorial service took place On Friday 13 July 2007, the eve of the Durham Miners gala, which was a favourite event of Derrick's.
"Rest In Peace Derrick"
Adobe Reader 
You may need a product like Adobe Reader (free download) to view our PDF documents on our website.