The Dying To Work campaign aims to protect employees who have been diagnosed with a terminal illness so that they do not face losing their job (and any death in service benefits) due to the illness.
Many organisations are signing up to the Dying To Work Charter to ensure that their employees are protected at such a difficult time in their life.
GMB are fully committed to the charter and are working hard to persuade organisations to sign up to the charter and offer their employees this end of life protection.
Our full time officer David Clegg has recently worked with the County Durham and Darlington Fire and Rescue Service who have now signed up to the Charter. They are the first organisation in the North East to sign up to the charter. Please click the image below for more information.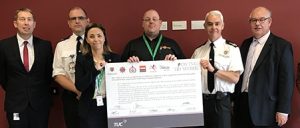 Spennymoor Town Council
Spennymoor Town Council have now also signed up to the Dying To Work Charter making them the first Town Council to sign up nationally. Pictured below is the Depity Mayor of Spennymoor, TUC Representative, Town Clerk, David Clegg from GMB and Ian Pritchard from Unison.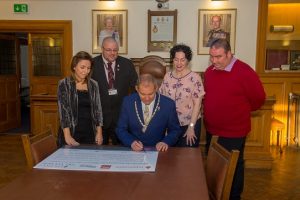 To learn more about the Dying to Work Campaign, please visit the campaign site – http://www.dyingtowork.co.uk/