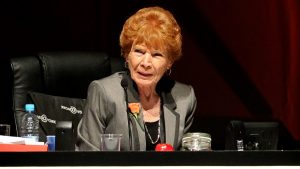 It is with great sadness that we announce that Mary Turner, long time president of GMB and Labour party executive has passed away
Mary will be greatly missed by many and Durham Local Authority Branch sends its deepest sympathy to Mary's family at this difficult time.
GMB General Secretary, Tim Roache, said "The word giant is sometimes overused but in the case of Mary she really was a true giant of our movement. Mention the name Mary Turner and people will smile and say she had that unique blend of fighting spirit mixed with care and compassion.
She has left this world having made a real difference to people's lives, that's something we are all proud of and that GMB will never forget. Be it fighting for dinner ladies in Brent, for hungry kids to have a free school lunch, for pensions, for young people, against discrimination and the National Front, Mary has led our movement.
They broke the mould when they made Mary Turner, she will be deeply missed by her GMB family, including her beloved London Region. Mary may be gone, but she has left behind a union that will ensure the values and principles she fought her whole life for, will always endure."