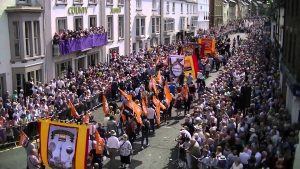 132nd Durham Miners Gala
Each year, GMB members from across the country march with their banners and brass bands as part of the Durham Miners Gala.
Durham LA branch marched carrying the West Stanley banner and the branch banner led by Leyburn Brass Band.
This year our new General Secretary, Tim Roache, was a guest speaker.
The branch were honoured this year to have Regional Secretary Billy Coates, General Secretary Tim Roache and retired General Secretary Paul Kenny as guests.
GMB members from across the country carrying branch banner with music from Leyburn Brass Band
The event was followed by the GMB Social Night at the Radisson Blu hotel in Durham