After a couple of years break, the branch are pleased to be able to put on the annual Christmas shopping trip to York.
Come and join fellow GMB members and guests for a day of shopping at York's Xmas markets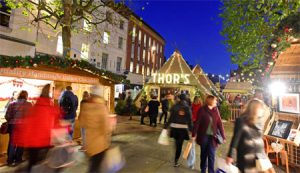 St Nicholas Fair lines the streets with snug wooden chalets and twinkling lights. Stallholders will be selling unique gifts including jewellery, homewares, crafts and local wines and cheeses. To add the festive atmosphere, scents of hot mulled wine and roasted chestnuts will fill the air.
When it comes to Christmas shopping, you'll be spoilt for choice with an amazing array of boutiques, markets and independent shops. Shambles Market is open daily so don't miss the chance to buy local Yorkshire produce for your Christmas feast! And with the historic Minster as the breath-taking backdrop to the festive activities, offering carols and services for all, York is the ideal destination for your Christmas adventure.
We will have a coach leaving County Hall at 08:00 and returning from York at 17:00
Tickets are £5.00 per GMB member and £10.00 per guest (maximum 2 guests per member).
There will be various chances of winning prizes on the coach with games of Bingo and a Quiz!
Tickets can be purchased by contacting the branch on 03000 268135